A SPECIAL BLEND
MUSIC / VIDEOS / BIO
Mervyn Edwin Warren is a film composer, record producer, arranger, a five-time Grammy Award winner and a 10-time Grammy Award nominee. Warren has written songs for television and films and has arranged in a variety of styles for producers including Quincy Jones and David Foster.
Warren is best known as a member of the a cappella group Take 6, and composer of the underscore to: The Wedding Planner (2001), for arranging songs for the film Sister Act 2 (1993), and for producing and arranging most of the soundtrack to the 1996 Whitney Houston film The Preacher's Wife.
---
  A Special Blend on Facebook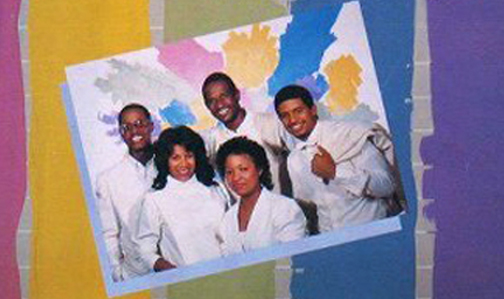 Vocal groups. At Oakwood Academy and College (now Oakwood University) in Huntsville, Alabama, that was simply "what people did." I grew up hearing these groups perform, at least weekly – trios, quartets, quintets, sextets, and so on. 10 voices, 12 voices. 20. 80. I had begun playing the piano at age 5, and harmony came naturally to me. Atypical harmony.
Somewhere around age 9 or 10, I heard Omerror Dawson's group The Distinctive Friends of Jesus. I'd been sitting in church and fiddling – bored – but as soon as they began to sing, I was riveted. Like most gospel groups or choirs, there were no bass vocalists. That was to be expected. But the Friends sang more than standard 3-note triads. There were "extra notes," like the ones I played on the piano.
This sound wasn't exactly new to me; at home, my parents played The Swingle Singers, The Ralph Carmichael Singers, and such. But despite the seemingly endless talent at Oakwood, this was the first time I'd heard anyone doing "tight" 4- or 5-part harmony. As they sang, I could "see" every
chord on the virtual piano keyboard in my head. I nudged my mom and said, "I need to be in that group." (A musician, herself, my mom had taught me my first piano chords at age 5.) She smiled and said, "Well, I know you can handle the music, but I think you're a bit too young for that group. They're in college."  I burst into tears. I began to follow everything Omerror did. Years later, we became friends and developed a mutual respect for each other's musicianship. But I don't believe I've ever told Omerror that story. (Until now.) 🙂
At age 10, in the 5th grade, I started the first of a number of vocal groups I'd have, over the years. This one consisted of 5 of my female classmates. Technically, they'd already sung together a few times when they invited me to accompany them at the piano for an assembly. After that performance, I asked when they typically rehearse, and they replied, "Well, we only needed you this one time." (Ouch!) But a week or two later, I played for them again, and within weeks, I'd begun creating 4- and 5-part arrangements for them, which they learned and began performing regularly. Soon, by default, it was clear they'd become "my group."
I'm trying to remember the group's name! It may have been The Symbolic Sounds. I definitely had a vocal group by that name; I just don't remember if that first incarnation bore that name or if we adopted it later, after adding more voices. By junior high, the group had grown to 9 voices, and at various points between then and high school, it swelled to as many as 12-15 voices.
Somewhere around age 12, I met genius Mark Kibble and discovered we had very similar abilities. He eventually joined my group, which by that time featured both male and female voices, and he introduced me to the recordings of The Singers Unlimited – the group which, more than any other, would influence me and, frankly, change my life. In our junior year at Oakwood Academy, Mark joined a very talented male, a-capella quartet at the college (the campuses were adjacent), becoming the 5th member, and immediately began arranging for them. But Mark couldn't do what he wanted with only 5 voices, so he invited me to join. That group became Alliance, which later became Take 6.